Next round puts Videl and Spopovitch head to head with one another. The brutal beast of a man lays no mercy on Mr. Satan's ("Hercule")little girl. With un-human like power he beats her to the ground, only letting her survive because Yamu reminded his partner that killing his opponent would lead to disqualification ( in the dub he says "they have more important business"). Suspicions are aroused amongst all the fighters of where Spopovitch attained his power and leads Gohan to become more stressed about his challenge, Kibito. Afterall, if Piccolo couldn't handle Shin, Kibito just might be as strong. After reassuring his son, Goku goes off to Karin's Tower to locate some Senzu beans to heal Videl. After taking his sweet time, Gohan asks for Kibito to hold off a little longer, just until he can give Videl a Senzu to heal her. Obliging but not very happy, Kibito agrees.
After a sappy scene between Gohan and Videl, the fight between Gohan and Kibito commences. Deja vu hits everyone as the fight is the same between Shin and Piccolo: a stalemate. Both fighters eye eachother up until Kibito breaks the ice by asking Gohan to turn into a Super Saiyan. Shocked that the tall guy was aware of his hidden identity, Gohan follows his orders and begin to transform. Standing in the background, Kaioshin waits in anticipation for what will come next...and he knows exactly what is about to happen. Out of the shadows, Yamu and Spopovitch jump out and drain Gohan of all his energy. Kaioshin, to eveyrone's shock assists them in their task by restraining Gohan's ability to move and barking orders for everyone to just stay put. When Yamu and Spopovitch had finished the job, they take off to the air with their flask of pure energy. Kaioshin reassures Goku that Gohan will be fine and that if he chooses, he may follow him for his help will surely be needed.
"You know what to do Kibito..."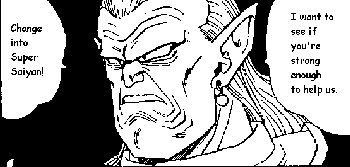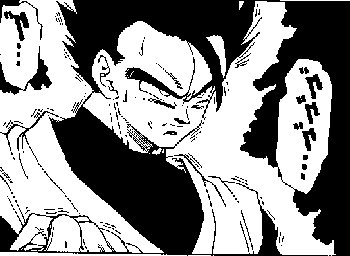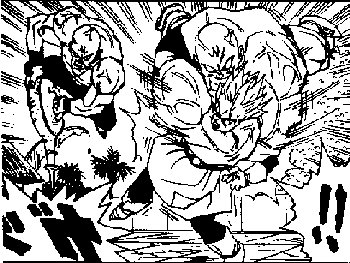 ---
What happened next? Click below.